Please enjoy the following guest post from my friend Jenny!
--
Hi everyone! I'm Jenny from
Lavish Layerings
and I'm so excited to be guest posting for Kellie today! I've been a long-time follower of Kellie's blog and have had the pleasure of getting to know her a bit better this year and she is SUCH a sweetheart! I've always admired her picture perfect swatches and her ability to rock her nails at any length...they ALWAYS look amazing! I feel like my wishlist grows every time that I read her blog, so I thought it would be appropriate for today's post to be about a polish that Kellie featured recently that I have been drooling over ever since.
When I think about Kellie, I think about bright, happy colors. I almost went with neons for today's post, but I know that she has a particular affection for corals. For her
Valentine's Day mani
this year, Kellie featured
KBShimmer's Belle of the Mall
and I fell instantly in love with its squishy, sparkly goodness. When KBShimmer recently had a 20% off sale, it was one of the first ones to go in my cart and when it arrived, I knew it was the perfect choice for this post. For my mani, I wanted to include some stamping but I also wanted to keep it simple so as not to detract from the gorgeousness of the base. I used an open floral design from
MoYou London's Pro XL plate 10
and
Mundo de Unas Black
for the stamping. I adore the contrast of the black against the bright coral base and the fact that the stamp doesn't cover up all of the sparkle, but allows it to shine through. Sometimes the simplest manis have the most striking result.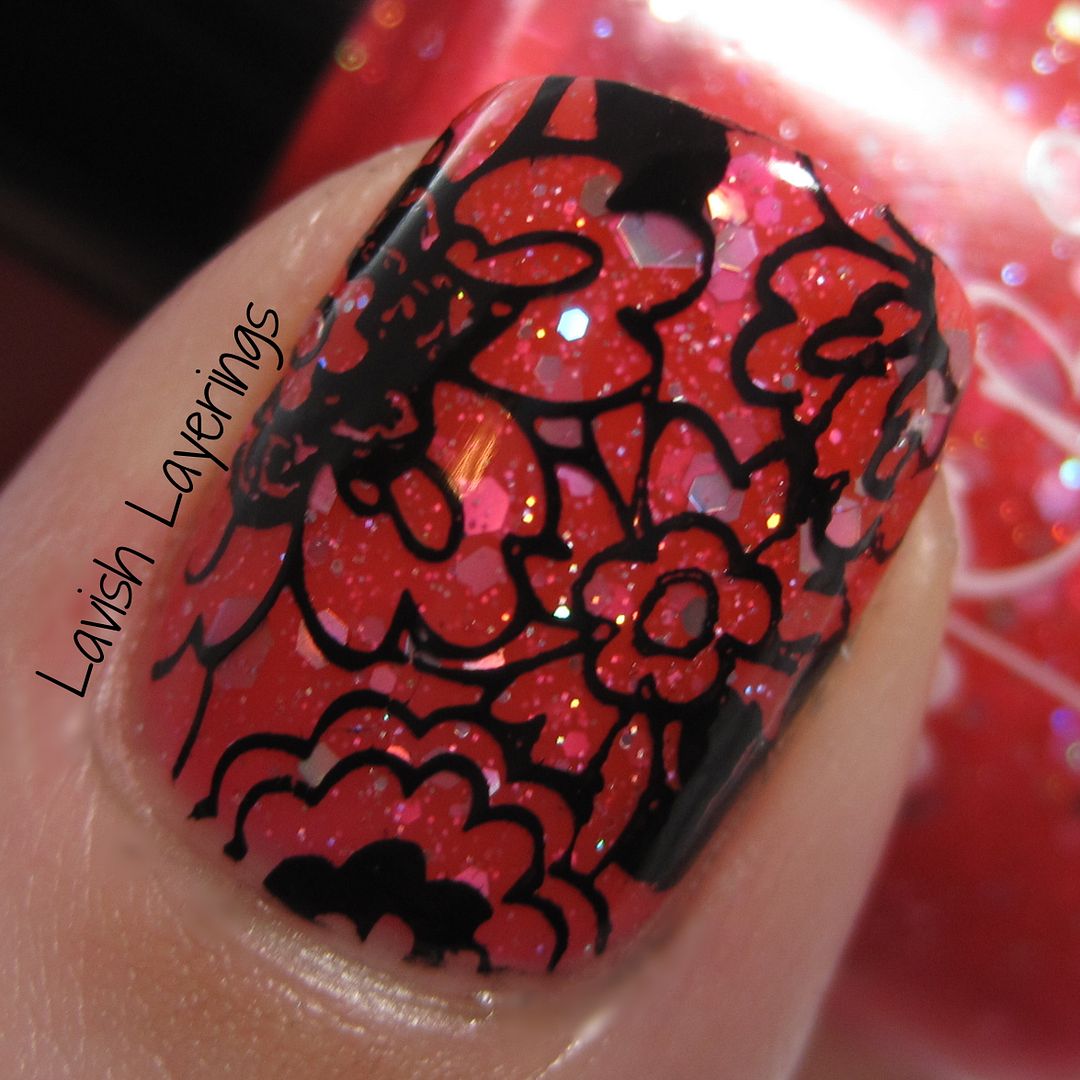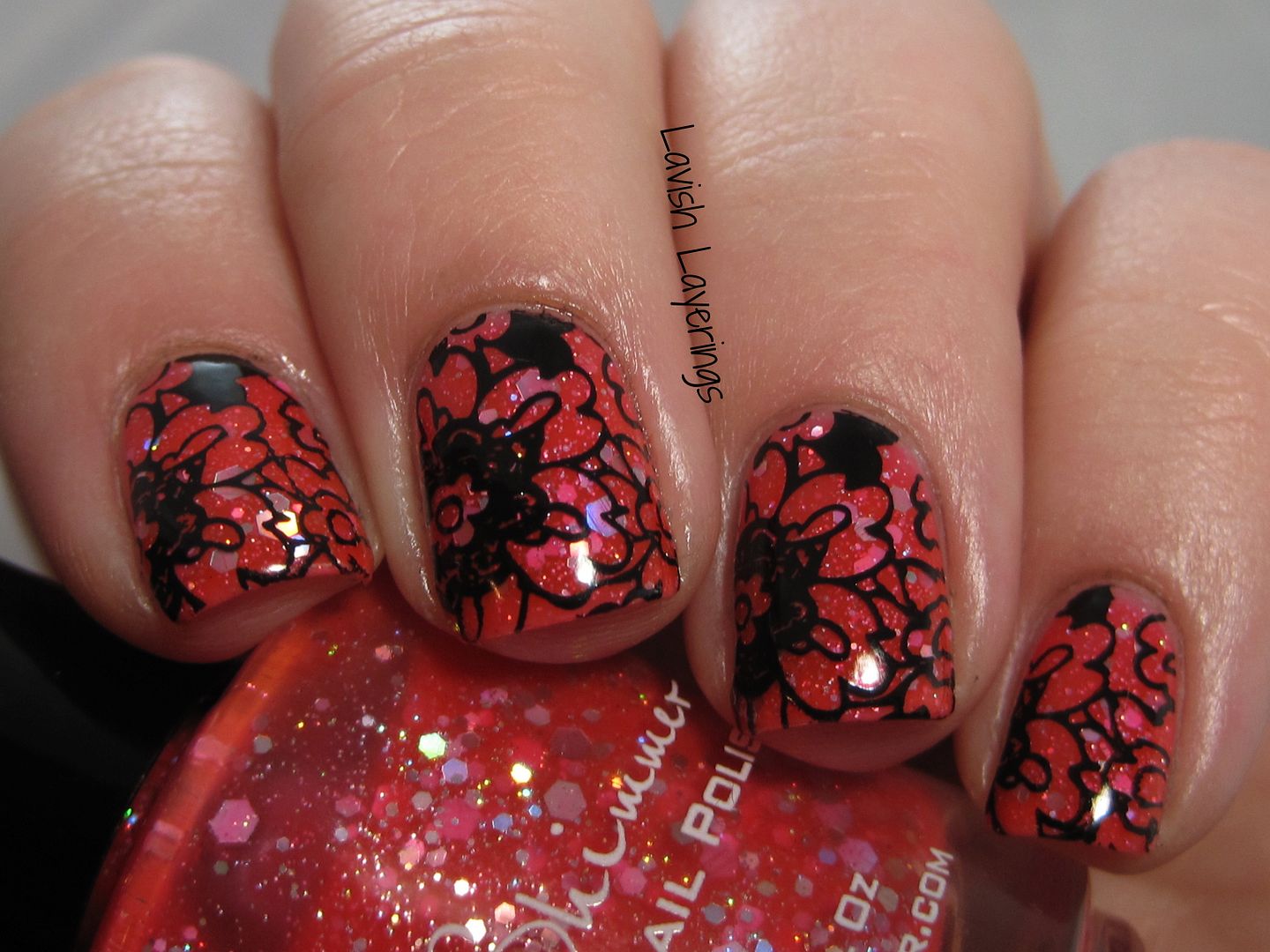 And here is
Belle of the Mall
on its own. It's a squishy, bright corally pink jelly filled with silver holo glitters in different sizes. The formula is perfect in classic KBShimmer style with great glitter density and spread. I used 3 thin coats for this mani. Just look at the fabulous sparkly depth! This polish is perfect for spring and summer. It would make a gorgeous pedi color as well.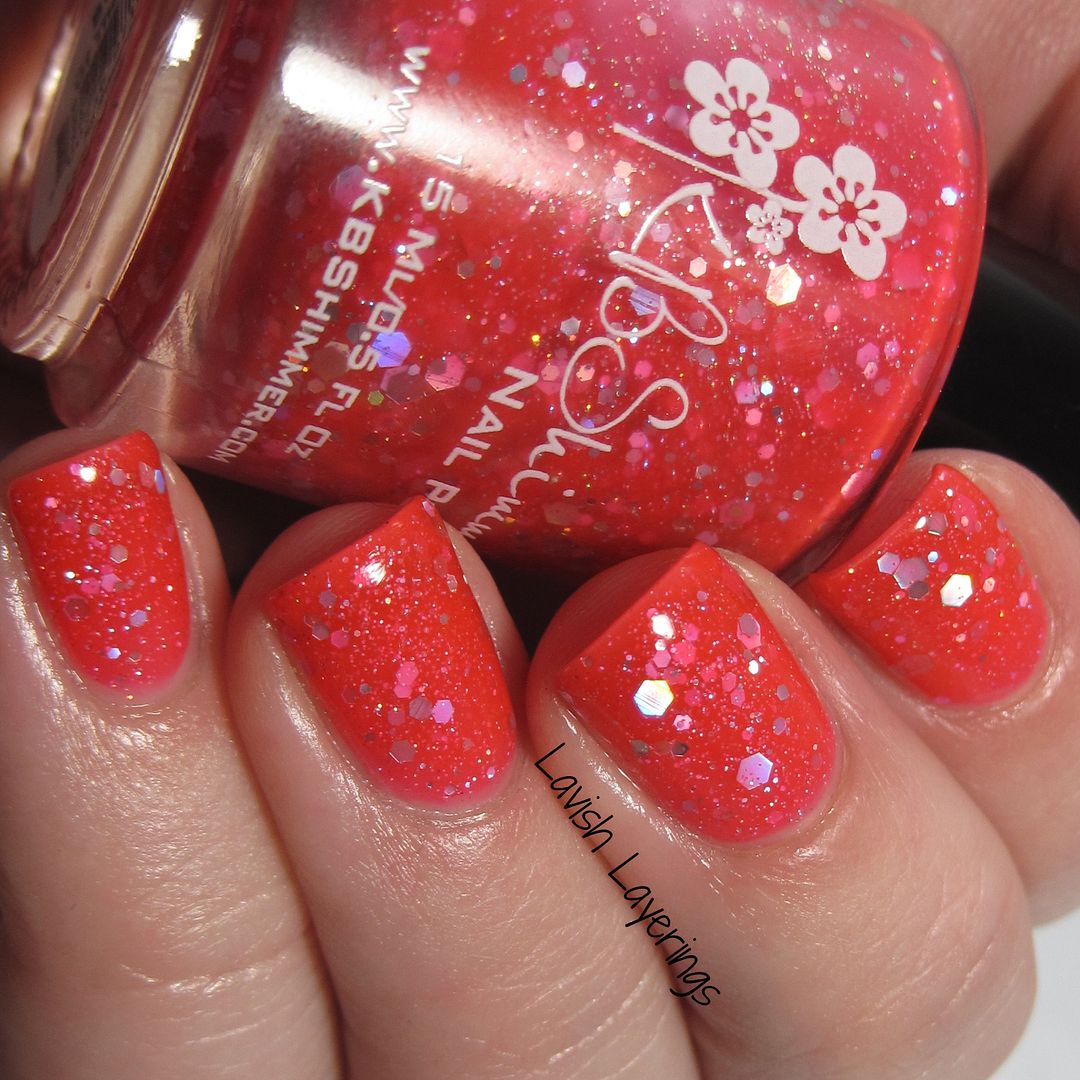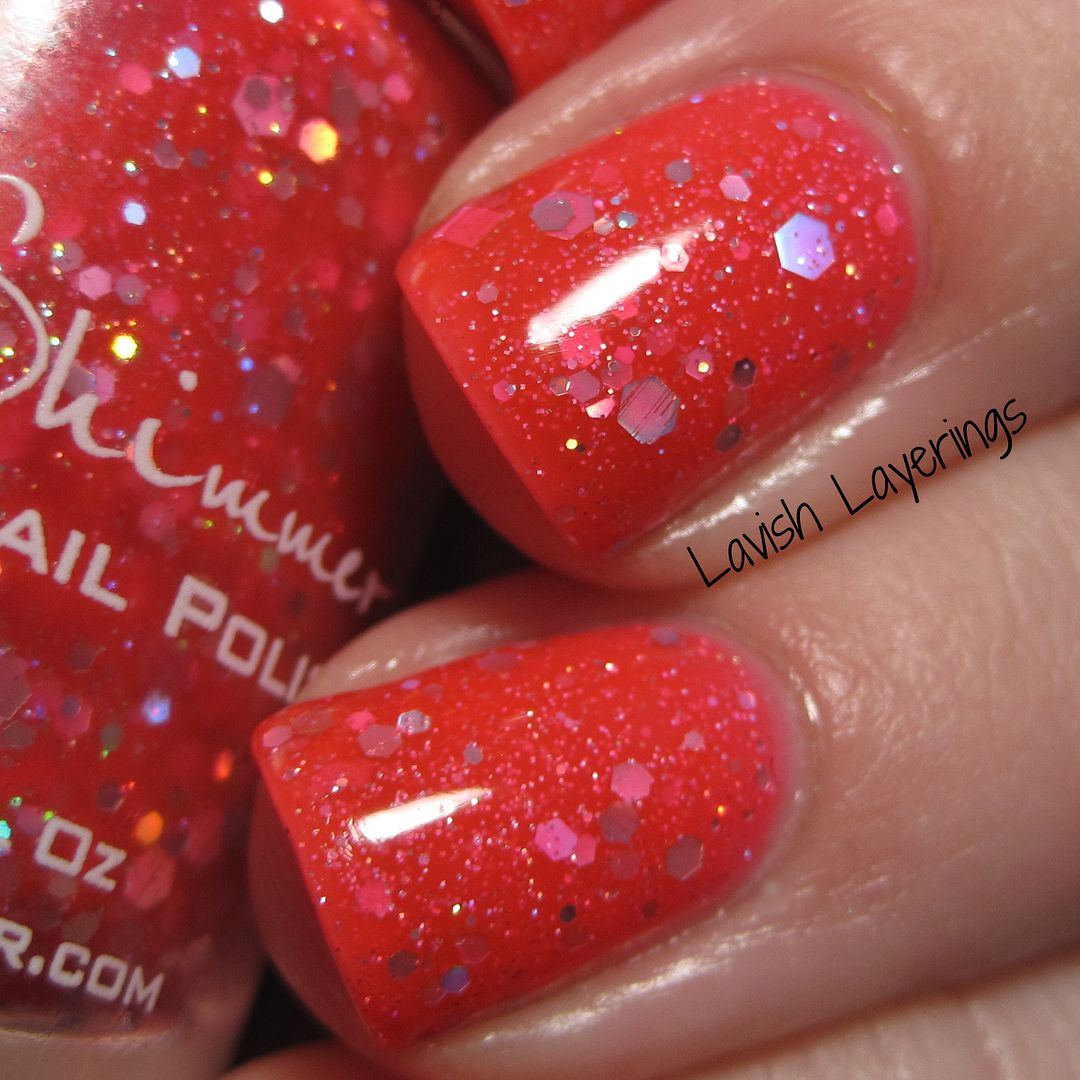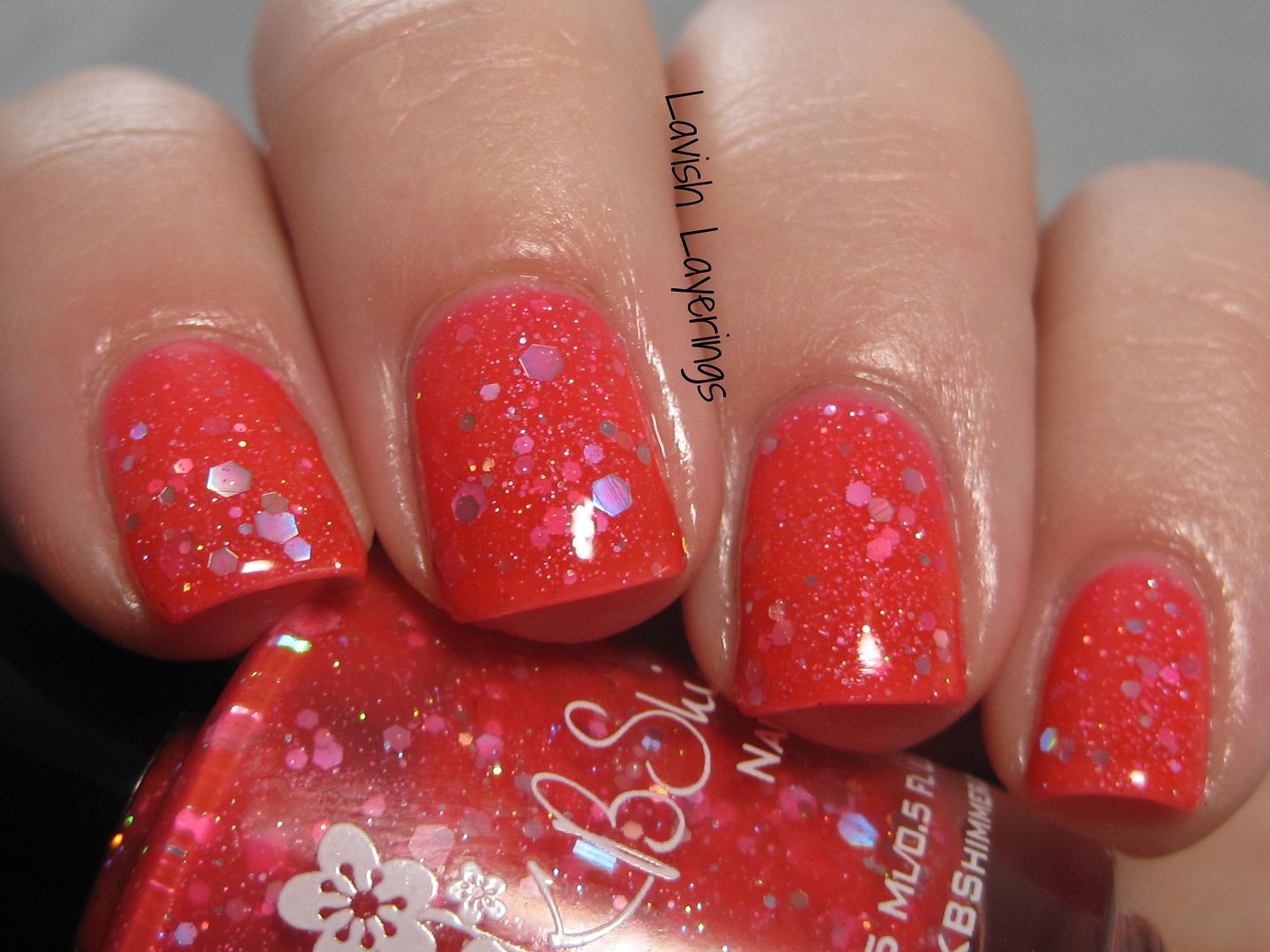 I want to give a huge thank you to Kellie for inviting me to post today and to all of her readers for having me! Thanks so much for looking everyone!
--
Thank you Jenny for your beautiful post! I'm so glad to have met her, she's such a genuine person and she has fabulous skills!
❤ Kellie